Opis
WEATHER FORECASTING
DISEASE MODELS
IRRIGATION AUTOMATION
WORKFORCE PLANNING
KEY BENEFITS
By the use of crop evapotranspiration better plan the irrigation, save water, money and time.
Helps prevent animal health problems that occur in houses with nonstandard climatic conditions.
Plant disease model calculation to improve plant protection and prevent crop losses.
Work planning on farms – it saves time and makes farming even more efficient.
COMPACT & SIMPLE PRECISION FARMING EQUIPMENT ON A BUDGET
Every farmer knows how much rainfall, temperature and relative humidity can vary from field to field. For measuring this data, Pessl Instruments is introducing LoRAIN. Make use of modern communication infrastructures for work planning and disease management decision on your fields. LoRaWAN® communication enables cost effective and timely monitoring of rainfall, actual temperature and relative humidity on your fields. With this data we can offer spray weather, work force planning, models for disease risks and infection dates for many crops, data can be used to produce a highly reliable localised weather forecast with MOS technology and virtual sensors for wind speed and global radiation are added to complete the information needed for intelligent and pro-active farming.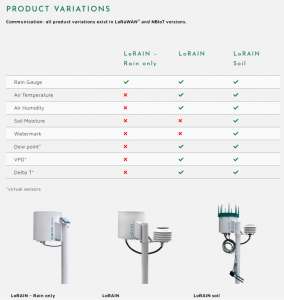 This is what you can do:
• Plan the work week based on a localised weather forecast for your operations site
• Plan your work day based on the actual rain and temperature data and the daily weather forecast for your field
• Plan your spray program based on disease models and prediction and check the quality of spray work online
• Plan your irrigation based on ET-crop and predicted plant water use
• Bring data directly into your management software and Operations Center via automatic interface
LoRAIN IS DESIGNED TO BE EASILY CONNECTED TO AN EXISTING LoRaWAN® NETWORK. FOR REMOTE SITUATIONS WITHOUT THE AVAILABILITY OF A COMMERCIALLY OPERATED LoRaWAN® NETWORK PESSL INSTRUMENTS PARTNERS WILL SUPPORT YOU WITH A FARM BASED LoRaWAN® NETWORK WHICH ENABLES YOU TO INSTALL ALL AVAILABLE LoRa® SENSORS – FROM PESSL INSTRUMENTS OR OTHER VENDORS.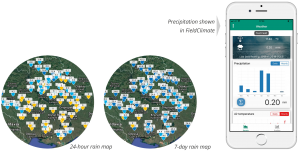 BY USING THE PROPRIETARY INTELLIGENT SENSOR HANDLING, THE LoRAIN PROVIDES VALUES OF:
• Leaf wetness for disease forecast,
• VPD and Delta T for defining best weather for spraying (spray window),
• Dew point for frost prediction.
More LoRAIN Applications
WORK PLANNING TOOLS BASED ON WEATHER FORECAST
The spray window helps identify suitable periods for the application of crop protection measures by showing suitable (green), less suitable (yellow) and unsuitable (red) periods for application. The conditions are calculated from wind, precipitation, air temperature, relative humidity and delta T.
CERCOSPORA BETICOLA DISEASE MODEL
This simple risk model is used to evaluate, if C. beticola could be expected at all. If the incubation period could be fulfilled within the last 2 weeks, a value of 1 of incubation is shown, if not, the value is 0. Besides this model also a model for sporulation is shown. For sporulation, optimal conditions of 48 hours of high relative humidity with an average temperature of 30°C are used. For the interpretation of data: The risk is 0 if the incubation period has been longer than 2 weeks. If this is not the case, the model output will be 1. If there is a sporulation model result of higher than 10% calculated within the last week, the risk will be shown to be 2 and if the sporulation result is higher than 30% the risk output will be 3.
TECHNICAL SPECIFICATIONS
Intelligent power supply
State of the art super capacitor charged with the solar panel
The very low power requirements of LoRaWAN® communication enables a battery-free power concept for LoRAIN. Avoid the hassle with forgetting to switch off the device or damaging the batteries due to deep discharge during storage. Bring it to the sun and it will start working. Bring it to the shade and after 6 days it will slowly stop for the time being in shade.
What is LoRa®?
It is a spread spectrum modulation technique derived from chirp spread spectrum (CSS) technology and is the first low-cost implementation of chirp spread spectrum for commercial usage.
Housing
UV resistant polycarbonate plastic (Protection class IP65)
Dimensions
22.5 cm L x 17 cm W x 18 cm H
Weight
1,10 kg
Connectivity
LoRaWAN: EU863-870, US902-928, AU915-928, AS923
NBIoT: Category: Cat-M1/NB1; Frequency Band: B1, B2, B3, B4, B5, B8, B9, B10, B12, B13, B14, B17, B18, B19, B20, B25, B26, B27, B28, B66
Measuring interval
LoRaWAN: 5 minutes
NBIoT: 15 minutes
Logging interval
LoRaWAN: 15 minutes
NBIoT: 15 minutes
Transmission interval
LoRaWAN: 15 minutes
NBIoT: 60 minutes
SENSORS
Rain Gauge
Sensitivity: 1 tip per 0.2 mm
Air temperature
Operating temperature range: -40 °C to +125 °C
Thermometer error -10 °C to +85 °C: +/- 0.3 °C
Relative humidity
Precision 0 – 80 %: +/- 2 %
Precision 80 – 100 %: +/- 3 %
Measurement, logging and transmission intervals can be set differently to fit the client's needs.
Measurement interval: occurrence, when the station measures the attached sensors
Logging interval: occurrence, when the station calculates the minimum, maximum and average values of all measurements which happened in this logging interval
Transmission interval: occurrence, when the station transmits the stored data from the logging interval to the FieldClimate.
Logging and transmission intervals for LoRaWAN communication-based products are the same.